Choosing a Water Butt or Rain Barrel
It's important not to rush into buying a water butt before you've carefully considered your specific needs in order to access which type of container will be perfect for your needs in your garden.
There are many shapes, sizes, styles, materials and water capacities available to buy - so it makes sense to carry out a bit of research to establish which one fits the bill for you.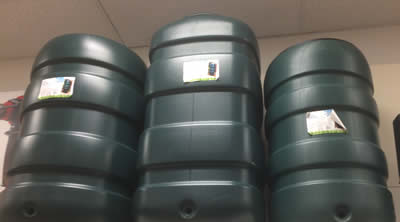 It's also wise to buy a model of butt or barrel that has a reputation with regard to quality and durability. It's usually worth paying a bit more for a well-manufactured container, rather than waste you cash on a cheap unit made from inferior materials which may not stand the test of time.
If you have a large garden and plenty of watering duties to carry out, it makes no sense to buy a small butt that just won't be up to the job - unless, of course, you intend to buy several slimline containers and chain them all together with link hoses.
Similarly - if you only have a small garden, yard or patio area - it would be illogical to pay out big money for a huge butt, barrel or tank which will harvest far more water than you really need. Make an ill-informed choice at the buying stage and you could end up with a water container that's not really fit for purpose.
It's estimated that for every inch of rain that falls, a 1000 square foot roof will catch more than 600 gallons of water - enough to fill a dozen 50 gallon butts. So clearly there's a lot of rainwater that will be potentially wasted - a water butt other suitable container gives you the chance to harvest some of this precious natural resource.
Let's take a look at some of the main things to consider when setting out to buy a water butt for your garden.
Choose the Right Size of Butt
As mentioned, this is a key consideration, so take a look at the various sizes available and try to work out roughly how much water you will need for all your gardening tasks - this may include watering plants and flowers, home-grown vegetables and fruit, lawn areas and hanging baskets.
How a butt looks at your home is also important - a giant plastic water butt attached to a quaint and rustic cottage, for example, might not look great and may even detract from the appearance of your property. In this setting, a small wall-mounted slimline butt may look much more discreet and suitable. A traditional real oak keg wooden barrel or even a realistic wood effect oak cask but prove a more visually appealing option.
As a rule of thumb, you should aim to accommodate the largest water butt you can which won't look unsightly and out of place - you'll be surprised how much water you will use when you get down to some serious watering and sprinkling duties in the drier summer months.
Water butts are available in an extensive range of capacities from around 75 litres to a huge-capacity container which will hold 500 litres or more. The most popular water capacity range which most UK buyers opt for tends to be around 100 to 250 litres.
Which material?
Most water butt are made of various types of plastic, including recycled plastic which is appealing for obvious reasons. Plastic is an excellent material when it comes to standing up to the elements outdoors during the harsh weather in the winter months. It's also easy to keep the exterior clean, providing you give it a good scrubbing now and then and a blast with a power hose.
Some grades of plastic used in water butts are better than others so try to buy a container that is sturdy and hard-wearing. A butt made from flimsy plastic is unlikely to last anywhere near as long as a better quality product.
Some of the plastic butts which are made to look like real wood, stone, terracotta and clay are very impressive - if you want a butt that looks a bit more stylish than a standard plastic butt, this could be the right choice for you. These wood effect butts and others which create the appearance of other materials come at a price - but they look very stylish and blend in beautifully with most garden settings.
There's always the option to go for an old-fashioned barrel-type water butt, made from real wood. Some of the oak butts available are very charming indeed. These are often made from old converted whiskey or wine barrels which have been treated and seasoned for use outdoors. They are very heavy and look amazing in a rustic garden setting. There look far more appealing in the garden of an old country house of cottage, rather than outside modern properties.
Real wooden butts usually come with an ornate beech, pewter or brass tap to add to their obvious charm. Some also have a hand pump at the top of the barrel. These butts are not very common, so many people opt for a wood effect wine or whisky barrels which are available in many types of 'imitation' wood and usually come with an attached brass, pewter or chrome tap, a lid and a stand.
They are crafted from 100% recycled plastic and are weather resistant and UV-stable. Prices range from around £150 to £500. A typical water capacity for this style of water barrel is around 250 litres.
Style, Shape and Colour
This is a key aspect to get right when choosing a water butt. The container you eventually opt for will be around for many years, so you need to find something that you're confident you'll be happy to see in your garden all year round.
Thankfully water butts are available in many colours so it's not too difficult to find one that will blend in well with the colour scheme of your house and surrounding garden area. Green and black are the most common choices and both work well in the majority of garden settings. There are several other colours available, including blue, yellow, red, grey and brown - but, as mentioned, don't choose something too garish which just won't cut it in your garden.
Wood effect barrels can work a treat when it comes to blending in well with a garden setting - oak and walnut options are very popular in UK garden and you can even buy a very realistic butt that looks like just like a huge tree trunk. Plastic butts which create the impression they are made of slate, stone, terracotta, marble and clay are also very natural looking and definitely worth considering.
Regarding shape, the vast majority are round - but there are also models available which are square, rectangular, octagonal and hexagonal. If you are feeling really bold, you could opt for a water butt which is shaped like a giant beehive!
If you have young children, you will definitely need to keep safety to the fore and choose a butt with a child-proof lid. You can also buy mesh guards which can keep muck, leaves and other debris out of the water in a butt.
Water expands when it freezes so you should never have a full water butt in your garden during the cold snaps in the winter - it makes sense to empty a water butt during very cold weather or you could end up with a container that splits and needs replacing.
Once you've filled up your water butt with precious water, you need to ensure you have an effective method for getting the harvested water out again for use in your garden.
If you have a big enough opening you can dip a bucket or watering can into the barrel. If you have a spigot, you can run the water out through the bottom.
Attach a hose to the spigot and you can let the water run out on a section of the garden. Attach a soaker hose to the spigot and you can slowly and gently water a section of the garden. With the barrel raised up on a secure platform you can fill your watering can from the spigot.
Water barrels generate very little water pressure. Raising the barrel off the ground enhances the effect of gravity, creating a little more pressure. Using an adapter to reduce the downspout diameter increases pressure somewhat. If you really want pressure you need to use a pump. A small batter-powered electric pump or a hand-cranked pump will get the water out faster.
However, even with a pump you won't generate enough pressure to operate a sprinkler. A huge rain-gathering unit such as a cistern with a pump may be able to generate enough pressure to operate a sprinkler, but a rainwater butt or barrel can't do it.