Types of Garden Water Butt
Water butts are available in various materials including wood and metal - but the vast majority are made of plastic.
These excellent rainwater-gathering devices are available to buy in many different styles, colours and capacities - so it's usually pretty easy to find one that meets your needs for your garden. Plastic butts are very durable and stand up well to all weather conditions.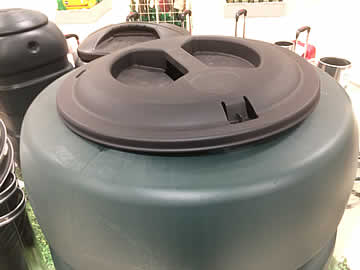 Wooden water butts are very rustic looking and blend in perfectly with most garden settings - they look particularly impressive when used to gather water at cottages, farmhouses and older style buildings.
Butts made from oak and other real woods are not that common - however, there are plenty of wood effect butts for sale which are very cleverly designed to look just like the real thing, with a very realistic wooden finish. You really would be hard-pressed to know they are in fact made of plastic until you inspect them up close and feel their texture.
Let's take a look first at plastic water butts which are by far the most popular type in the UK.
Plastic Water Butts
This type of water storage butt can be made from various types of plastic including UV stabilised polymer and recycled plastic.
The plastic butts can come in extremely realistic wood finish or in vibrant colours - popular colour options include green, blue, black, white, grey, red, brown and purple.
They can be round, square or rectangular and small, medium, large in size - the slimline ones are often wall-mounted fit on the wall directly to the downpipe.
Most plastic butts are very affordable, with a cheap one costing around £30 to £50. Higher-priced deluxe water butts are totally worth the investment as far as appearances go - they are often larger capacity sturdy containers which are built to last for years. That said, all rain butts are a good investment when your sole aim is water conservation and recycling.
Most people opt for a standard plain design butt in green or black - but there are many other colours available including blue, red, purple, grey and orange. There's also the option to buy a plastic butt that looks as though it's made of stone, pottery or concrete blocks. The amphora type plastic water butt is a popular choice with an authentic terracotta/clay effect.
If you like the idea of rain butt that looks a bit different from the common round or square shape, you could consider some of the more unusual shapes available including the giant terracotta garden pot butt and the ebertSankey 150-Litre Beehive Butt which look like – yes, you've guessed it, a beehive. Another great option is a plastic butt that looks just like a huge tree trunk.
Some plastic butts also come with built-in planters - you can grow anything depending upon how much sun the location gets. And when you do, your water butt will almost certainly integrate organically with your garden.
After a few months in your garden, allowing time to gather a bit of dust and moss, almost any clay look-alike will soon look like the original item!
Some other variations of classy plastic butts are stone barrel replicas that come in stone column and polished granite looks.
A 350 little Gabbro stone effect water butt with a built-in planter, will cost you a hefty £500 - admittedly not cheap, but again, this would be a perfect investment if you look upon it as a piece of garden decoration with utility.
When you make an investment of this magnitude, it is worthwhile checking if the butts are UV-stable and weather resistant as well - most of them will be.
Wood Effect Water Butts
A popular choice of butt in UK gardens is the plastic type which resembles a wood effect - these look very realistic indeed and choices of 'wood' include light and dark oak, teak, maple, cherry, mahogany and walnut.
The butts that are cleverly moulded to resemble real wood are not exactly cheap but they really do look wonderful. A plastic oak effect barrel, for example, which can hold 190 litres of water is likely to cost around £70 and £100, depending upon the level of craftsmanship.
A 230 litre Norway Wood Effect butt (which is very attractive indeed) would be considerably more expensive, at around £300.
These wood effect butts look just like the old wine barrels and beer casks most of us are familiar with. They often come with a stylish brass or pewter tap attached and some even have an impressive replica cast iron pump and handle.
You can even opt for an extremely realistic tree trunk style of wood effect butt, moulded from an actual German oak tree. This will hit you in the pocket in the region of £300 but you'll be getting yourself a fantastic looking storage container with a brass tap which holds an impressive 104 gallons of water (475 litres).
If this kind of price is way beyond you budget, there are similar butts with a less intricate finish for a lesser price - these are still pretty impressive, bearing in mind most water butts are viewed from some distance away and rarely inspected up close when friends and family come to visit you.
Wooden Water Butts
Let's take a look at some of the excellent choices in the wooden water butt department. These are less common, but not rare. The reason being nothing other than the fact that most people think of utility when buying a water butt and plastic is the natural choice in that respect.
Those of us looking for something off-beat - and there are quite a few with that mind set - will certainly want to check out the oak whisky barrels and kegs that have been converted into beautiful water butts with a genuine antique look.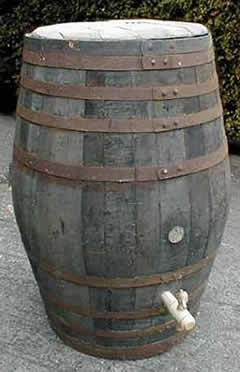 If you really, really love the old times and the rustic feel, you could consider buying a pump barrel. This is an oak barrel cask that comes with a working model of a cast iron village pump.
You get all the water you need the old fashioned way - by cranking the handle. It's not hard work, saves a lot of electricity and is an excellent alternative to a submersible pump.
It doesn't get any more environmentally friendly than this. You can get these with or without a diverter and the cost would be around £200 for a 56 gallon pump barrel.
You can also buy oak barrel butts in natural wood finish or stained. Both types look beautifully archaic and are perfectly suited for the work they are supposed to do.
Naturally, you can be a little less careful with plastic than you can afford to be with wood, but these barrels are usually recycled distillery casks which have been completely seasoned for outdoor use.
Wooden barrels with a lift up top and an eco-friendly hessian rope handle are a popular choice in UK gardens.
Brass or pewter taps usually go well with the look and feel of most oak barrel water butts, but if you are particular, there are wooden taps available as well.
Water Butts with Planters
This type of butt is all the rage as it serves two functions - to act as a standard rainwater-saving container and also to display various plants or flowers.
The built-in plant containers make the water butt a lot more visually impressive and natural-looking. Some butts have two, four of six little containers on the sides to add plants, while others have a container under the main unit's lid.
The Cascata 245 Litre Rain Barrel, for example, is made of plastic but looks like a giant terracotta clay urn. This is a really impressive water butt, costing around £150, and features a section at the top which can be used as an integral planter or a bird bath.
Rainwater Terrace water butts are also a popular choice for anyone who wants to make their barrel look extra special, with a range of small plants growing from the mini planters in the side, in a bed of soil. They are available in green, black or brown and contain a variety of water capacities including 134 and 200 litres. Their price tag is around £100 to £150 depending on the butt size and the number of integral plant containers included.
These butts are stackable and operate with a unique system where rainwater flows from one tier to the next, watering all your plants along the way. This all helps to keep the harvested water much fresher than it would be be in many other types of plastic butt.
The little plant containers in this innovative design of butt are perfect for growing your favourite flowers and herbs. Some people also choose to grow soft fruit and vegetable in them. These lovely water barrels make a truly striking addition to a garden setting - so if you're looking for something that's a classy improvement on a standard plastic water butt, then this product from the Rainwater Terrace company is definitely worth considering.
Portable Water Butt
Another type of butt is the portable variety - these are handy if you want a container that can be erected in minutes and then taken down again and stored during the winter. They cost around £30 and can hold an average of 280 litres of water. They feature a sturdy outer frame consisting of several poles and then a heavy duty bag-like container is attached inside them.
They also have a hose pipe tap near the base of the container and a drain pipe opening hole at the top. These portable devices can be moved around your garden to the area you wish to water - however, it's a pity they don't feature wheels or castors to make them even more mobile!
So there you have it - hopefully we've provided you with all the information you need to buy the perfect type of water butt for your gardening tasks.